About Us
Welcome to Twenty Valley – a kennel that promotes excellent health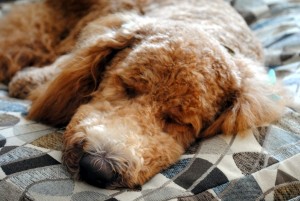 and superior temperament above all else!  We also have been proud breeders of German Shorthaired Pointers for many years and we have taken our motto which is to breed "Intelligent, Friendly and Healthy German Shorthaired Pointers" and have applied this to our Goldendoodle program. (please feel free to visit our website www.twentyvalleypointers.ca or peruse our facebook page: www.facebook.com/twentyvalleybreeders).
At Twenty Valley you can be assured every dog in our breeding program has undergone vigorous and thorough health testing, or have been generationally cleared.  We are strong supporters and believers in the validity and integrity of the Orthopedic Foundation for Animals (OFA) and the Canine Eye Registration Foundation.  We provide a two year health guarantee against genetic defects with every puppy that leaves our kennel and will ALWAYS rehome a puppy for ANY reason.  We are invested and responsible for every puppy born and raised at Twenty Valley for the duration of his or her life!
All of our Standard Poodles and Golden Retrievers have been purchased with breeding rights from breeders who care deeply about exemplifying the breed's standards and ensure clean, healthy breeding lines.  They have multi-generational health testing backing them.  We truly want our Goldendoodles to be the BEST of both breeds!  Our Goldendoodles are the result of deliberate and carefully planned breedings to ensure the puppy we bring to you is a HEALTHY, HAPPY, and BEAUTIFUL life long companion.
Prices as of May 2023:
$1800+hst for a Standard Goldendoodle
$2200+hst for a medium Goldendoodle
$3000+hst for a mini Goldendoodle.
To reserve one of our beautiful puppies, a $500 deposit is required.  This deposit is non-refundable.  You will be given a receipt with the amount paid, outstanding balance, and our HST number.  Should your circumstances change, this deposit is good for any of our future litters.  If the litter your deposit is in for does not result in a successful pregnancy, your deposit will be rolled over to the next available litter.
What you can expect from Twenty Valley Goldendoodles:
A well socialized, healthy and happy Goldendoodle. We cannot stress the importance of this enough.  Please be a discerning buyer.  We are aware of the wide variation  in pricing.  However, even the Goldendoodles priced at the high end of the spectrum do not necessarily have breeders that have meticulously researched both breeds, health tested their breeding stock, are willing to rehome their pups, or allow visitors to their kennel.  Due to the fact that Goldendoodles are not CKC registered it is completely the buyer's responsibility to do research on kennels to ensure the purchase of a high-quality Goldendoodle.
Invitation to visit our kennel. Please be advised that visits to pups must wait until the puppies are three weeks old to protect their immune system.  After that, you are most welcome!
A complete information package on how to care for your Goldendoodle. We also include a picture of the dam, sire and entire litter.  While we will provide a hard copy for you, you may also request one emailed to you prior to the pickup of your puppy. We will also send you home with a collar, leash, toy, and a blanket with the mother's and littermates scent.
30 days of free health insurance
Two year health guarantee against genetic defects.
We will have you sign a non-breeding contract.
Proof of full vet health check and first vaccinations and our vet's contact information.  Also, the pups will be routinely dewormed.
A well socialized puppy – we are blessed with three children who adore our dogs. The benefits of a well socialized pup are major.  Carefully supervised play after three weeks of age ensures the pups are used to being handled, have the ability to adjust to sudden and unexpected noises (a part of life) and learn very quickly that nipping and growling are not acceptable.  The first eight weeks of a puppy's life are absolutely critical.  Exposure to children frequently and regularly is something a lot of breeders cannot offer.  When it comes to the Goldendoodle, most people are looking for the ultimate family companion.  Start the puppies off right and you won't have to worry about a fearful and timid pup!  Every Goldendoodle puppy should respond in a positive and confident manner when you kneel on its level!  The time and energy we invest in socializing every puppy becomes the foundation for an excellent relationship between you and your Goldendoodle.  A well socialized puppy will appreciate and grow from your efforts to enrich his or her life!